Southfield Family Dental Center Is Proud To Be a Top Recommended Michigan Dentist Office Since 1988
---
We Treat Our Patients the Way We Would Like to be Treated
We have open and honest conversations about dental care.
We offer appointments outside of normal business hours.
Our amazing team that understands that sometimes going to the dentist can be a little scary!
---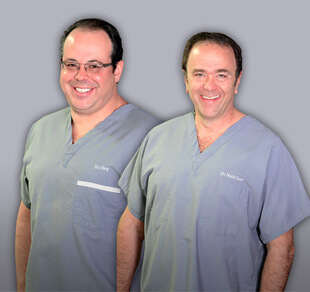 Drs. Levi and Oleg are committed to providing the best dental care in the fewest number of visits.

Our dentists know that the biggest part of patient care comes from knowledge and comfort.
We want to be certain that you understand all treatment options so you can make informed decisions about your dental care. We also are dedicated to ensuring your comfort before, during and after any procedure. At Southfield Family Dental Center, we provide a thorough dental exam and offer treatment plans to help you create an amazing smile - on a budget you can afford.
---
Our Patients Love Us!
We have hundreds of great reviews from happy patients!
---
Southfield Family Dental Center has the best staff in the dental industry!
Dr. Levi and Dr. Oleg are particular when hiring a new team member. Staff must be educated, experienced and have a good work ethic; equally, important, they must make everyone feel welcome and at ease!
Dentists
Every one of our dentists at Southfield Family Dental Center genuinely cares about your comfort and is committed to helping you maintain a beautiful smile. They also are experienced, knowledgable and up-to-date on all the latest and most important developments in dentistry today.
Office Staff
When you come to Southfield Family Dental Center, you are family. As you enter our offices, you'll be greeted by our friendly front desk team, who are here to help you with any insurance-related questions and determine the financial payment plan to perfectly fit your needs.
Hygienists
Our hygienists are here to help patients fight the good fight of oral hygiene! This skilled group will be able to assist you with everything from a general cleaning to gum disease.
Dental Assistants
Our dental assistants are caring and compassionate when assisting the doctor during your procedure. They will help you feel supported and at ease.
Administration
The Southfield Family Dental Center administration team is second to none! They are busy upstairs taking care of all of our patients' billing, insurance and financial needs. Rest assured that your interests are being looked after by this group of professionals.
Southfield Family Dental Center Is Committed To Providing Unparalleled Excellence in Dentistry
To fulfill this mission, we consistently:
Listen to those we are privileged to serve.
Earn the trust and respect of our patients and other dental professionals in the community.
Exceed your expectations.
Ensure a creative, challenging and compassionate professional environment.
Strive for continuous improvement at all levels.
Growing the My Family Dental Center Brand
To serve all those in the Metro Detroit area who are looking for top-quality, affordable dental care, Drs. Levi and Oleg formed My Family Dental Center as a parent brand to support new offices in additional locations. They have since opened new dental practices, as well as welcomed established practices that share a similar vision. Each professional in the My Family Dental Center family of dentists, hygienists, oral surgeons and specialists goes above and beyond to provide the best dental care at an affordable price.