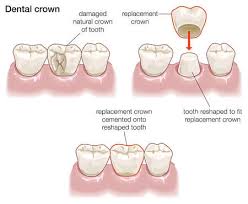 Out of all the various cosmetic and corrective dental procedures people go through, receiving a dental crown is among the most common. A dental crown is a tooth-shaped cap that covers a damaged tooth to restore its size or shape, as well as to improve its appearance and strength. When a dental crown is fully cemented in place, it encases the entire portion of the tooth above the gum line and is shaped to blend in with the surrounding teeth.
In addition to repairing a damaged tooth, crowns are frequently used for cosmetic reasons such as correcting misshapen teeth, as well as those that protrude from the gum line with uneven alignment. Crowns are also often placed on top of a dental implant to give the implant more of a natural appearance and functionality. When dentists use ceramic or porcelain crowns, they are able to match the color of the surrounding teeth, so these types of crowns are most prevalent today.
Crowns are often paired with dental bridges when someone is missing a tooth. The bridge is supported by either implants or natural teeth and contains two or more crowns that act as anchors on both sides of the gap. The false tooth is placed between the two crowns, which keep the new tooth in place. Like a traditional crown, when the false tooth is made from porcelain or ceramic, the dentist can match the color to the surrounding teeth. However, when the bridge and crowns lie in an area of the mouth that is not easily seen when speaking or smiling, dentists may use a false tooth made from gold or a metal alloy.
Receiving a dental crown requires two visits to the dentist. During the first visit, the gums and teeth are examined and a temporary crown is applied to the damaged tooth. At the second visit, the patient receives the permanent crown. Dental crowns have an average life expectancy that lies between 5 and 15 years, though with proper care, and perhaps a little bit of luck, a crown can last for as long as 25 to 30 years.
The best way for patients to ensure that they receive a high quality dental crown and effective placement is to have the procedure done by an experienced and respected dentist. At Southfield Family Dental Center, our team of professionals have the skills needed to implant a crown that not only strengthens your teeth, but also brings a smile to your face. If you're in need of a dental crown, request an appointment at our office today!