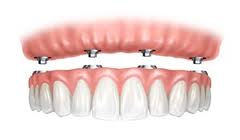 When you think about dentures, you might picture a full set of teeth sitting in a tall glass of water on your grandmother's nightstand. But while dentures of the past were clunky, uncomfortable, and easily spotted, today's dentures are available in a variety of forms to effectively take the place of a lost tooth or many teeth. If you have missing teeth, then you're probably familiar with the inconvenience, pain, and embarrassment that most people in your position experience. You might also feel apprehensive about the prospect of getting dentures, but rest assured that modern innovation and technology makes it easy for you to wear natural-looking dentures with the ideal fit and function.
Full Dentures
Full or complete dentures are ideal for those who have lost all or most of their natural teeth from decay, periodontal disease, or injury. Full dentures will not only restore a smile to its natural appearance, but they will also support the jaw to prevent facial features from appearing sunken.
Removable Partial Dentures
Removable partial dentures are best suited for individuals who have several missing teeth. They are designed to fit tightly between natural teeth to give the patient's mouth a full smile that not only looks great, but also makes it much easier to eat and speak.
Implant Supported Dentures and Partials
For those who are interested in dentures as a permanent fixture, partials and implant supported dentures are an excellent option. This type of denture is also ideal when the area of missing teeth is surrounded on either side by natural teeth that are healthy and worth preserving.
At Southfield Family Dental Center, our dentists have extensive experience working with every type of denture, and they have the knowledge and skills to help you find the best solution to improve your oral health and bring your smile back to life. Book an appointment at our office today!