Oral Cancer Screening
Oral Cancer screenings are an integral part of all of our dental exams that involve a careful and complete examination of the inside of your mouth and tongue.
What are some Oral Cancer Risk factors?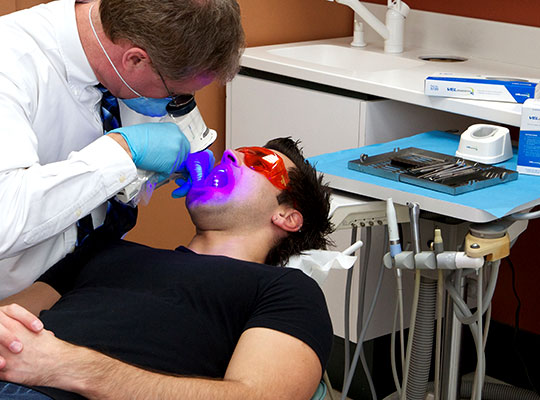 Close to 37,000 Americans will be diagnosed with oral or pharyngeal cancer this year.
80-90% survival rate if found by early detection
It will cause over 8,000 deaths, killing 1 person every hour, 24 hours a day.
The death rate for oral cancer is higher than that of cervical cancer, Hodgkins, lymphoma, laryngeal cancer, cancer of the testes and endocrine system cancers such as thyroid or skin cancer (malignant melanoma).
Historically the death rate associated with this cancer is particularly high due to the cancer being discovered so late in it's development. Early detection is key!
90% of patients with oral cancers use tobacco. The risk of developing these cancers increases with the amount smoked or chewed and the duration of the habit. Smokers are 6 times more likely than non-smokers to develop these cancers.
75% to 80% of all patients with oral cancer drink alcohol frequently. These cancers are about 6 times more common in drinkers than in non-drinkers.
More than 30% of patients with cancers of the lip have outdoor jobs associated with prolonged exposure to sunlight.
A diet low in fruits and vegetables is associated with an increased risk of developing cancer of the oral cavity.
If There Was

a Simple, Quick, and Painless Way to Screen for Cancer, Wouldn't You do it?
We're proud to offer VELscope oral cancer screenings at our Southfield dentist office! This simple procedure uses natural tissue fluorescence to discover abnormalities in the oral mucosa- put simply, we're able to shine aa light into your mouth to determine if you have oral cancer. It's a quick, painless, and affordable way to ensure your good health- remember, earl detection is CRITICAL.
Reduce the risks of Oral Cancer by:
Not smoking or chewing tobacco
Drinking less alcohol
Having a healthier "low meat, low fat" diet, rich in vegetables and fruit.
Call Southfield Family Dental Center today or contact us for more information. Be sure to ask about the $1 exam and x-ray.