Dental Implant Supported Denture
A fixed Dental Implant-supported denture is an artificial prosthesis that replaces all of the teeth with the support from the dental implants, thereby maintaining healthy gums and the integrity of facial structures.
A Dental Implant-fixed denture involves the surgical placement of four to six dental implants into the jawbone.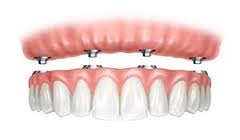 These dental implants are then used to support a temporary dental bridge or denture through the healing process, during which the dental implants naturally fuse with the jawbone. Final replacement teeth are placed three to four months following the dental implant placement.
A fixed dental implant-supported denture is a permanent restoration and can only be removed by one of the dentists at Southfield Family Dental Center when coming in for your yearly hygiene appointment. Unlike removable dental implant-supported dentures, dental implant-fixed dentures are designed to be cleaned in the mouth by the patient.
Individuals who have traditional dentures are all-too familiar with their many disadvantages. Replacing missing teeth with dental implant-supported dental restorations eliminates all of the problems associated with traditional dentures, including irreversible bone loss, gum disease, bad breath and more. In addition, dental implants allow individuals to enhance their quality of life by not having to worry about loose and uncomfortable dentures that require special care and frequent repairs.
Fixed dental implant-supported dentures are designed to provide our Southfield Family Dental Center patients with a solid foundation for a successful replacement of all their teeth. When this procedure is performed by Dr. El-Mahrouky, our patients regain their ability to lead a comfortable life knowing that their teeth not only look great but function just like natural teeth without compromising their oral health and ability to eat their favorite foods.