Dental Bonding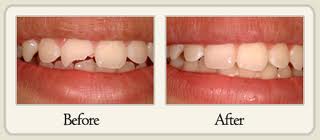 Dental bonding is a technique in which a tooth-like resin is carefully sculpted and affixed to your teeth. Dental bonding creates a strong, durable surface that is indistinguishable from natural tooth enamel.
Dental bonding is an excellent solution to dental problems including:
Repair decayed teeth (composite resins are used to fill cavities)
Repair chipped or cracked teeth
Improve the appearance of discolored teeth
Close spaces between teeth
Make teeth look longer
Change the shape of teeth
Cosmetic alternative to amalgam fillings
Protect a portion of the tooth's root that has been exposed when gums recede
But how exactly does it work?
Shade of composite resin is selected to match the color of the tooth
Surface of the tooth is roughened and conditioning liquid applied to adhere bonding material to tooth
Tooth-colored, putty-like resin is then applied, molded, and smoothed to the desired shape
After being shaped, the resin is hardened and the surface is polished and finished.