Bone Graft for Dental Implants
Bone can be lost by tooth or gum disease or if a tooth is missing or extracted the bone may collapse into the empty socket and cause a sunken appearance to our cheeks or jaw. A bone graft can fix these conditions caused by dental disease or that result from an accident, and can also be used to create a solid foundation for a dental implant.
The bone that supports our teeth is subject to periodontal disease, but can also be injured by ill-fitting dentures or other dental bridge work.
If a tooth is removed or lost, it is often necessary to fill the empty socket so that a hollow appearance doesn't result. All of these conditions can be fixed by having a dental bone graft.
Bone grafts are frequently used to create a solid base for a dental implant, which is an artificial tooth that looks and acts just the same as one of your natural teeth. Your existing bone can be built up so that it accepts the dental implant better, using any of the three sources listed above, and all sources of bone material work very well for creating the secure foundation your dental implant requires.
Step 1: missing tooth – whole left after extraction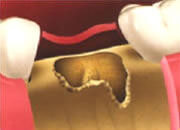 Step 2: bone graft – building up the space where the tooth was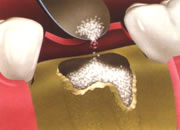 Step 3: membrane – covering the new bone for healing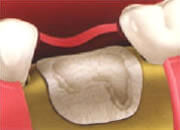 Step 4: stitches - so the site can heal